This project caught me as soon as I understood what the goal was. A father contacted me with the idea to build a custom-designed Bowie knife for the eighteenth birthday of his son. With the idea that it will become a future family heirloom.
The blade should be engraved with a dedication text to his son. And for the handle the idea was to use an exceptional wood: When the family emigrated to the US they planted an ash tree on their farm and a piece of that wood has been dried very professionally to be used in such a project. Another engraving should be done with the family crest.
I started by designing an aggressive recurved fighter-style Bowie blade with a big guard and a frame handle. I planned to have the dedication text follow the recurved wave of the primary bevel grind. We agreed upon my design ideas very fast and I continued with re-digitalizing the family crest – in the end by completely redrawing the whole thing.
The blade got the name Warrior Heart, as the dedication text contains these words and for a fighter style Bowie that is a perfect name.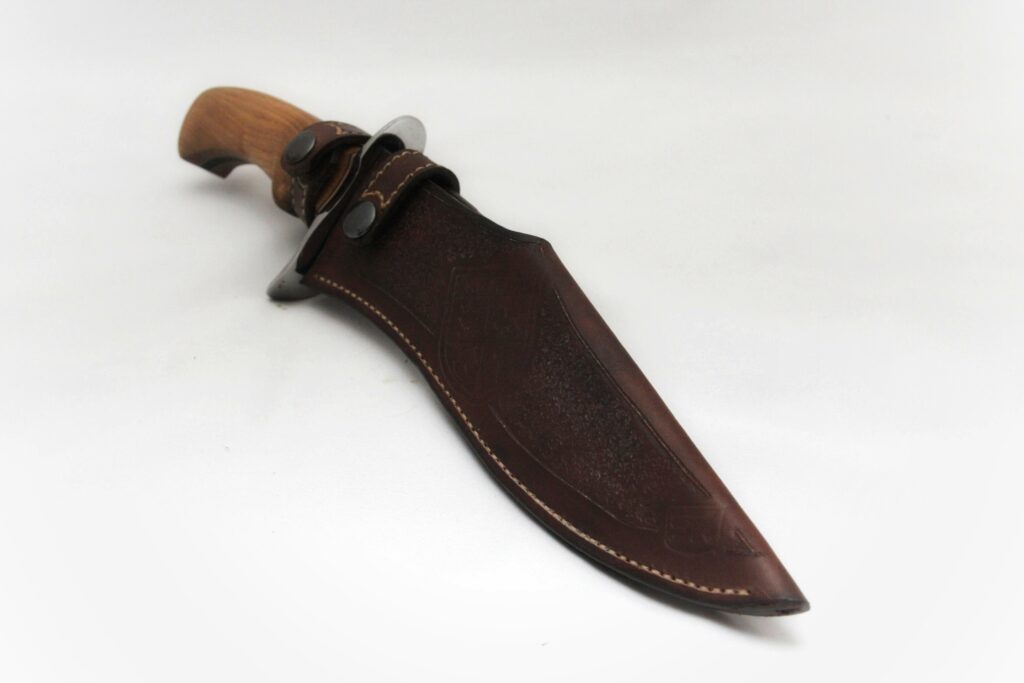 What followed were months of knifemaker work interrupted by way too many weekends where I was sick and many job-depending interruptions. Another learning was that I had started more than five complex projects simultaneously – my thought was to be able to switch projects if I got tired of one project and do something else if I wanted to. And also to be able to streamline some steps for example that I only had to harden all the blades at the same time. It turned out this was a bad idea, as you stop seeing substantial progress in all the projects and that is not my thing. I should have tried that with two projects and not five. In the future, I will go back to focus on one build at a time.
The knife should have a mirror polish and the biggest forged guard I had done 'til then. All came out perfectly. I also used the technique for selective hardening I had already used on former builds.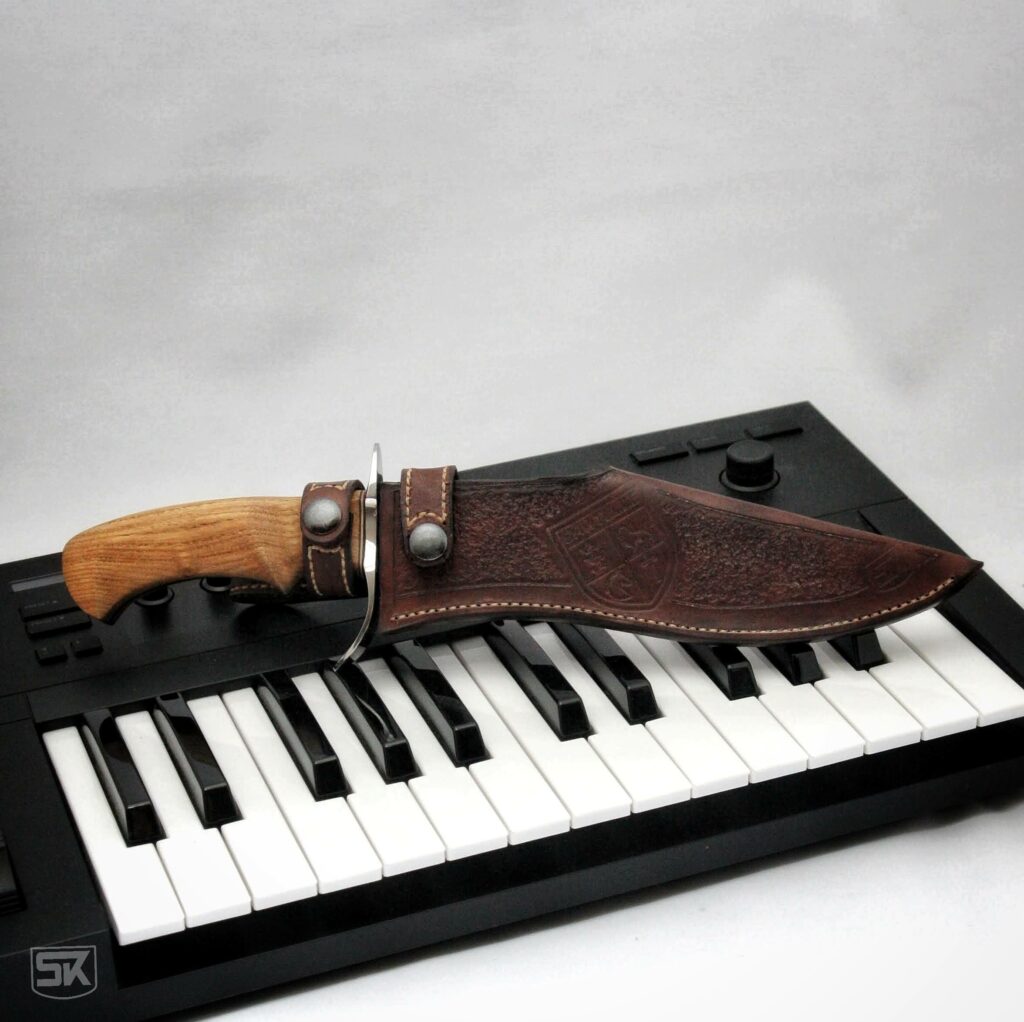 Besides the interruptions, what took the most time was my drive to have a perfect result. Every tiny microscopic scratch had to be hand-sanded out, stepping up (and down) the grit ladder until I was able to polish the blade and guard to a mirror finish.
Etching the blade with the maker's marks, dedication text and the family crest was a nerve-wracking step. A small mistake of just some seconds could have ruined the whole work of months. My hands were literally shaking but the results came out perfect and I was more than happy.
In the meantime I had received the blocks of ash wood for the handle – not without lots of questions by the German customs, what wood type this is and for what it is sent from the US. This ended with a 21.00 € invoice to get the wood free. I get the confusion as this just looked like simple logs of firewood.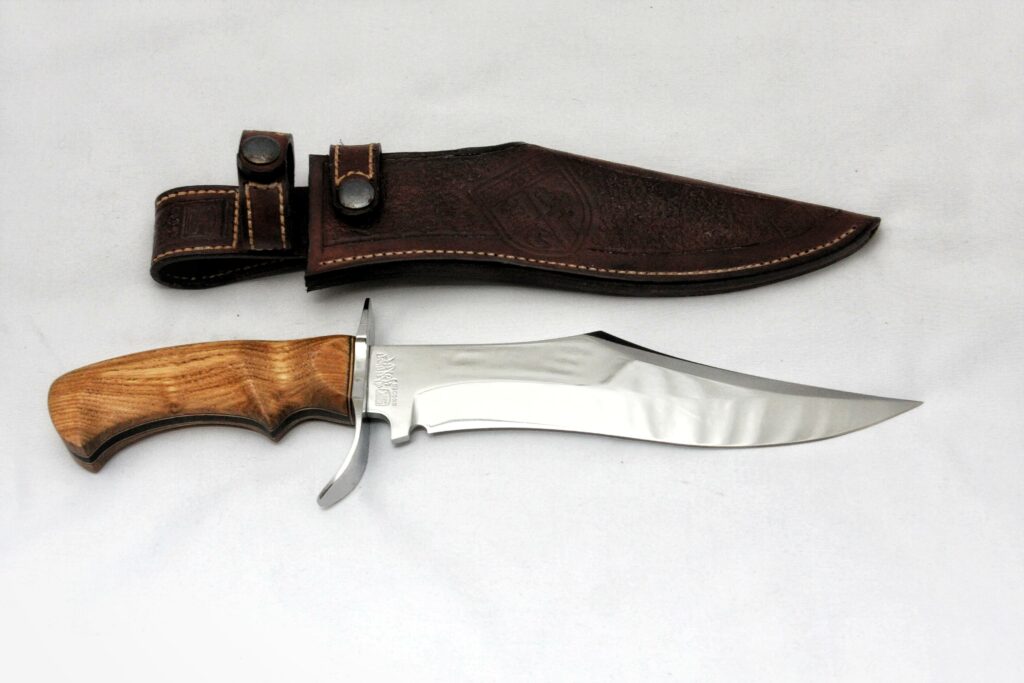 I started making the handle, layered out of the light wood from the family tree, multiple layers of veneer, and ebony wood. I learned that ash is surprisingly hard and strong, perfect for a knife handle – but it also is hard to sand really smooth. I am happy with the results now, but it took some layers of linseed oil, polishing with steel wool, and fine sandpaper.
For the leather work, I had a long ongoing idea I finally would be able to try. I have a lot of experience with 3d-modelling and bought a 3D printer last year. So I am now able to do my individual leather stamps. I printed a 3D version of the customer's family crest and my maker's mark and it worked perfectly to imprint this into the leather.