Question: How do you call a knife with this design? It is intended as an universal hunting or bushcraft knife with a short blade. And like my last knife it is intended as a present for christmas 2018.
I had shown my last knife, that I made as a present for my brother, to my father. And man you should have seen his eyes. He loved it and said how much my brother will like it as a christmas present – so what could be better than making another knife for my father, too?
I had seen a short bladed knife design on Instagram that i liked and started designing a similar blade on the computer. This design was pretty hard to do. I wanted to have a short drop point knife with a swadge that grind line seamless blends into one line with the handle. And I wanted to have a curve upward behind the swadge where you could press the thumb against. I needed a lot more iterations than on my last designs before I had a layout I liked.
Finally I was able to transfer the finished form on the 1.2003 steel and cut it out with my angle grinder. I had built myself a file guide out of some scap metal and two M6 screws and tried out to grind the bevels with that attached to the blade. The result were not that good, not because of a crappy file guide but because my belt grinder was not grinding symmetrically on the plate behind the belt. So I ended up with one bevel line that was rounded and one was more rectangular. It took me a while to figure out how to fix this. I put some tape on one side of my flat file so I did not ruin the bevel itself and filed away the rounded part so I ended up with pretty symmetrical bevel lines.
Next came the swadge – man I failed on this one. It took some iterations to get them symmetrical and grind away some other mistakes I made. I don't know what the problem was because on the previous knives that was one of the easiest tasks.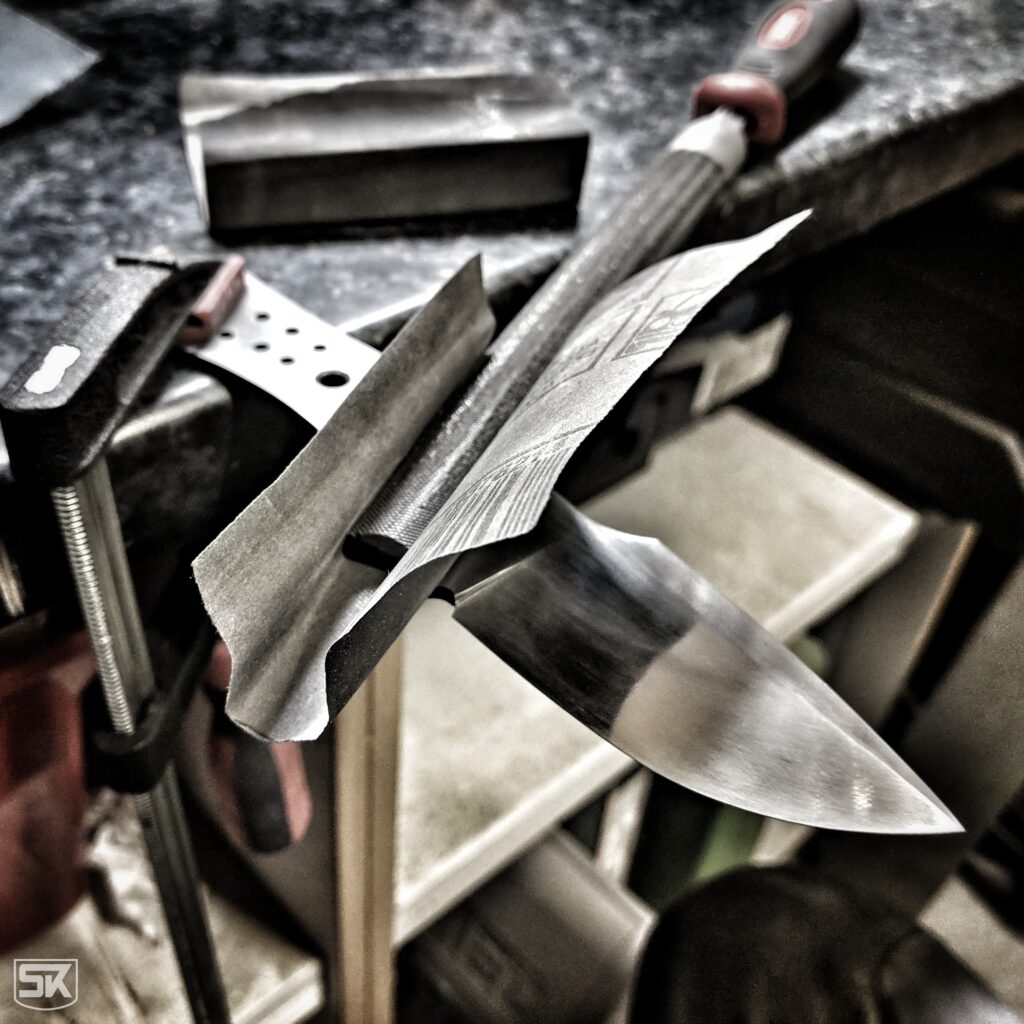 As I like to learn something new with every project I make, I wanted to add something new to this knife, too. Most of my knives so far have a handle with an extra shape for the index finger. This time I wanted to have a longer finger guard and a small silver line from the tang so that it forms kind of an open ring when seen from the side. For this, I had to grind the wood of the handle back down to the steel as I always did and then take the blade out and grind away a bit more of the wood. Then I had to smooth it out because after gluing the handles on the blade I would not be able to do so.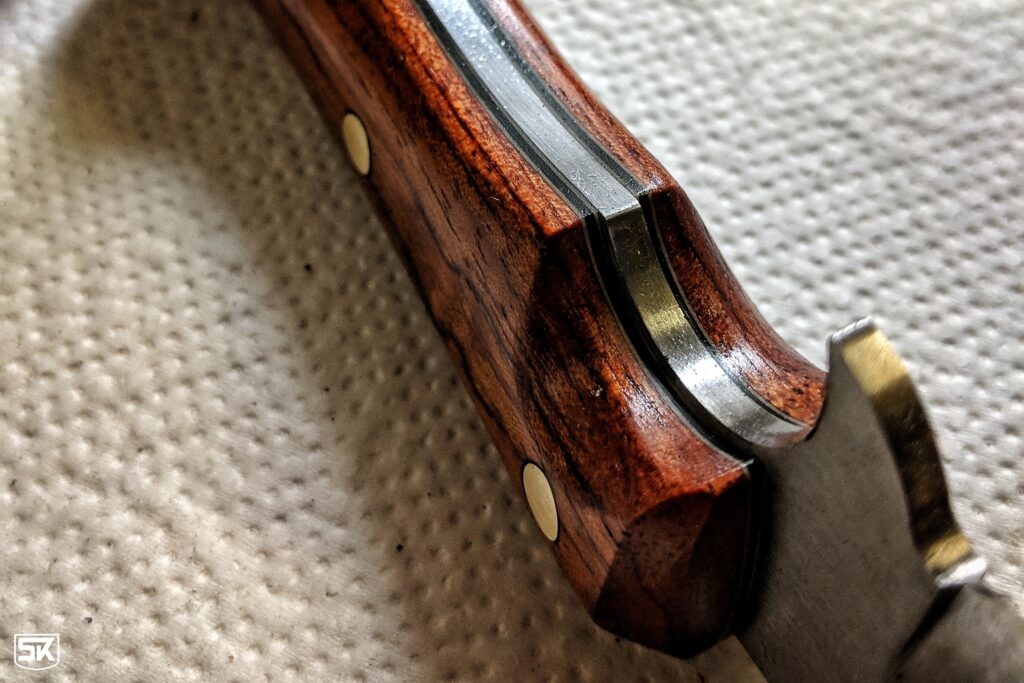 For the paper micarta liners I planned to use white and dark green – and yes I was going to laminate the liner myself, as always. The wood for the handles were bookmatched parts of Bubinga Curly. The wood turned out being pretty hard and grinding took a while. When I finally treated them with linseed oil I was surprised how dark the wood came out. But i liked it.
Next step was making a leather sheath.