I have a very close relationship with my brother – from childhood on we spent a lot of time together. He is one of, if not the most important person in my life. And when he saw the Kukri I made, he asked if I could make a knife for him some day.
We had November and there were still some weeks left so I decided to make a personal knife as a christmas present. He had told me he liked knives "like our father had" and that were Bowie knives. So I designed a nice recurved blade at my computer and again printed out several versions until I had a design that I liked.
I wanted to try a thicker steel and a different quality than the 3.2 mm 1.2003 steel I had used. So I got me some 1.2235 (80 CrV2) also known as L2 steel. The Steel has a thickness of 4.5 mm.
Transferring the form and cutting it out was straight forward. This time I wanted to do a flat grind again to avoid the sharpening problems I had on the konvex grind on the Kukri. And again I did it free hand which always is a big challenge to avoid facetting. But it turned out pretty good when I finally had a flat grind that I could feel while grinding.
The most difficult part was grinding a symmetrical swage and bevels on both sides so the point where the flat part of the blade ends is at exactly the same spot on both sides.
For the Handle I wanted to use the inverse parts I had left from making the handle of the Kukri – so for the front part I had Karelian Birch and the big part of the handle would be made of Leopard wood. Again I planned to make my own Micarta liners. This time I wanted to experiment with single layers of white sheets to create better separation of the colors. I chose black and a brighter red for the colors.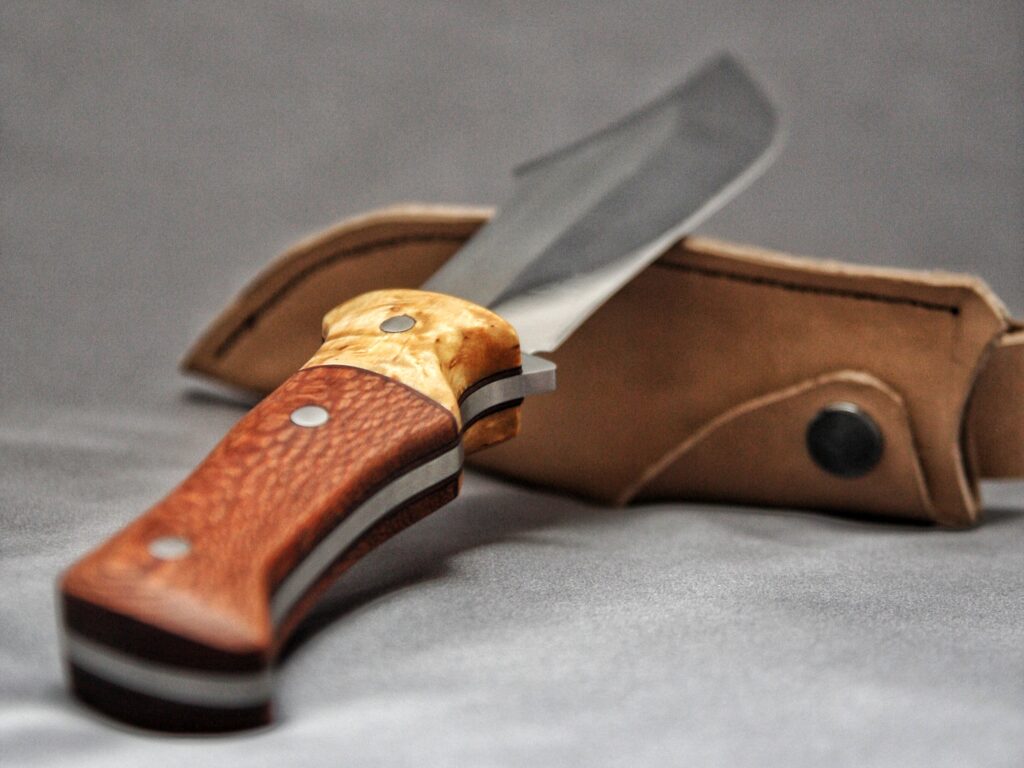 The lesson I learned on this knife was, that I wanted to get a better seamless surface and so I ground the wood of the handle and a bit of the steel between the handle halves. The result was a very wavy steel that was hard to sand back to a smooth curve again.
Another learning was to be extremely careful when mixing polished surfaces with scratch patterns. If you are not carefule enough you can start all over again.