I started working on a leather sheath for a current project. A new craft I try to learn is leather punching. For this i needed to transfer a draft from paper onto the leather and used a metal pin I had. The pin was not very durable and a small part of the tip broke off. Also the tip was not very smooth (like a good pencil is) from the beginning.
So I thought about how to make a perfect tool for me – and who said selfmade tools should not look beautiful? Also I needed a durable tool to punch through up to three layers of leather to transfer the stitches through all layers. So I needed to make a tool for that, too.
I cut off some 5 mm and 6 mm round steel rods and put them into my cordless hand drill. I put the tip against the running belt sander and so i got a perfect round tip. One of them I did a bit longer and sharper. The other one i rounded of like the tip of a used pencil.
For the pencil tip I wanted to have a wooden handle. I had a bit of apple wood scrap laying around and so I cut myself a 15 by 15 mm wood bar, drilled a 5 mm hole into the top and stuck the metal pin inside. This way i could mount the wooden handle into the hand drill too – and back to the belt sander. That is what I call the poor man version of a wood turning machine. The result looks great and i have a perfectly round and ergonomic handle for the steel pin.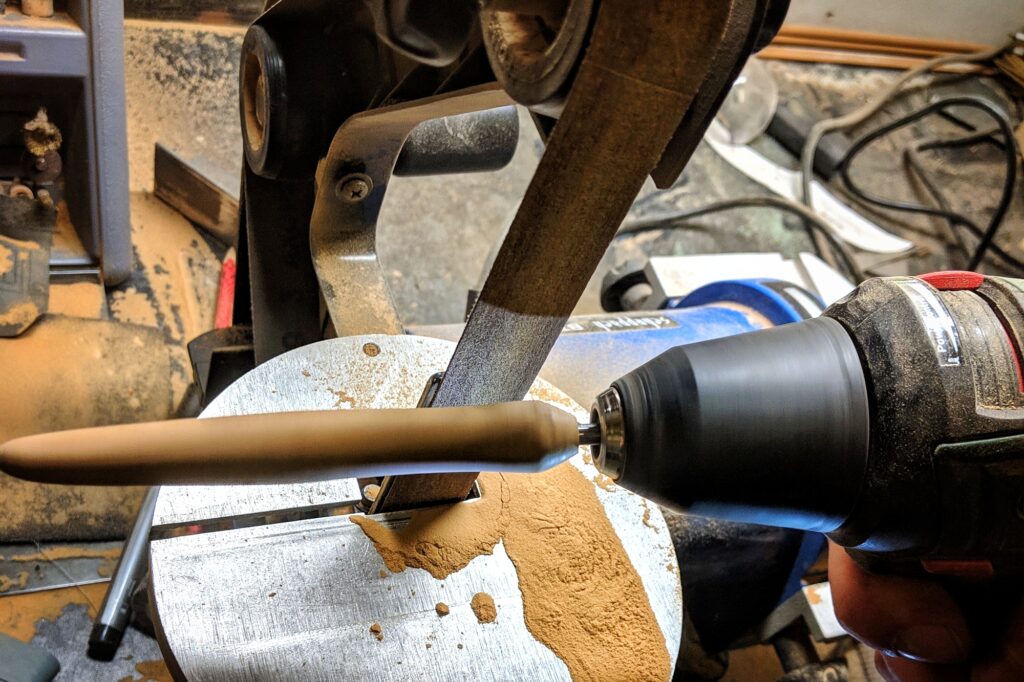 I hardened the tips of both tools (yes: before mounting the pencil tip to the woode handle) and polished the oil scales off afterwards. Then I hammered the pencil tip into the handle.
Finally I treated the handle with linseed oil varnish to expose the beautiful pattern of the apple wood.